Best Handwriting Course In Trichy - CampusUK - Tiruchirappalli
Monday, 19 March 2018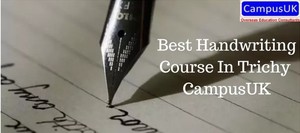 Item details
City:
Tiruchirappalli, Tamil Nadu
Contacts

Ali Manzoor
Item description
Increase your certainty and success in business and academic endeavours by enhancing your handwriting. Would you like to seem more professional? CampusUK gives Best Handwriting Course In Trichy, they intend to teach great and readable handwriting and they prepared professionals to recognize individual imperfections in a person's writing and correct them through their technical knowledge. CampusUK provide guided practice and plenty of time to improve.
For More Details Visit At: httpwww.campusuk.com/services/handwriting-program.php
Our unique benefits are:
Highly trained professionals with reputed certifications.
Improve your writing style dramatically in less than 7 days 1 hour per day.
They are improving dramatically both your style and speed.
They are Training them with our scientifically developed techniques.
They all provide a smooth Training methodology.
They can correct your Handwriting at any age.